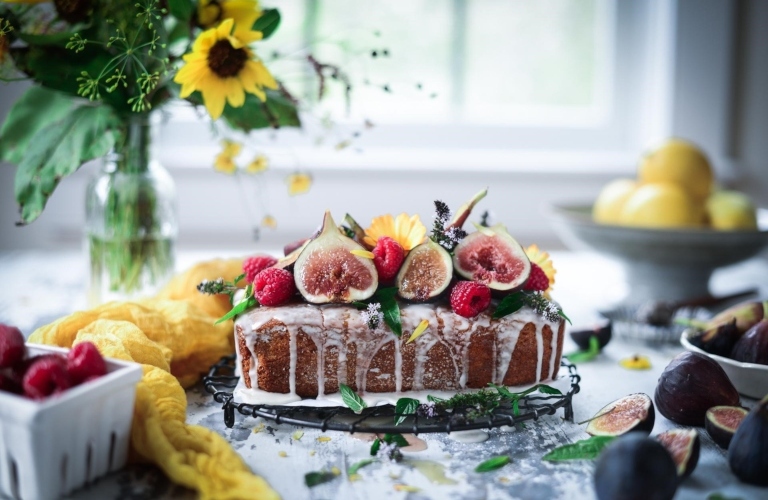 Ingredients of the cake:
1-1/2 cups 

flour
1/3 cup 

sugar

1-1/2 teaspoons 

baking powder

1/2 teaspoon 

baking soda

1/2 teaspoon 

salt

grated zest 

of 2 lemons

1/3 cup 

unsweetened non-dairy milk, such as soy or almond milk

1/3 cup 

honey

1 tablespoon 

apple cider vinegar

2 teaspoon 

vanilla extract
Ingredients Honey-Lemon Syrup:
2 tablespoons 

lemon juice

2 tablespoons 

honey
Ingredients Lemon Glaze:
1 cup 

powdered sugar

1-1/2 to 2 tablespoons 

lemon juice

Fresh figs 

and raspberries to garnish
DIRECTIONS:
STEP 1 Preheat oven to 350˚F. Grease a standard loaf pan. Cut a piece of parchment paper to fit the bottom and long sides of pan with a little overhang.
STEP 2 Whisk together flour, sugar, baking powder, baking soda, salt and lemon zest in a medium size bowl.
STEP 3 In a separate bowl whisk together olive oil, milk, honey, vinegar and vanilla.
STEP 4 Add wet mixture to dry and stir with a spatula until incorporated, about 1 minute.
STEP 5 Spread cake batter into prepared pan and bake on center rack for about 45 minutes or until it is dark golden brown and a toothpick inserted into the center comes out clean.
STEP 6 To make Honey-Lemon Syrup simply whisk together the lemon juice and honey until dissolved.
STEP 7 When cake is done remove from oven cool cake in pan on cool rack for 10 minutes. Brush top of cake with honey-lemon syrup while it is still warm. Lift cake out of pan using the parchment paper overhang and cool to room temperature.
STEP 8 To make lemon glaze, whisk lemon juice and powdered sugar until smooth. Start with 1-1/2 tablespoons of lemon juice and add more if glaze seems too thick. Pour glaze over cooled cake.
STEP 9 Optionally decorate top of cake with fresh figs, raspberries and edible flowers.
STEP 10 Cut and serve. Store cake covered at room temperature without fresh fruit for up to 1 week.