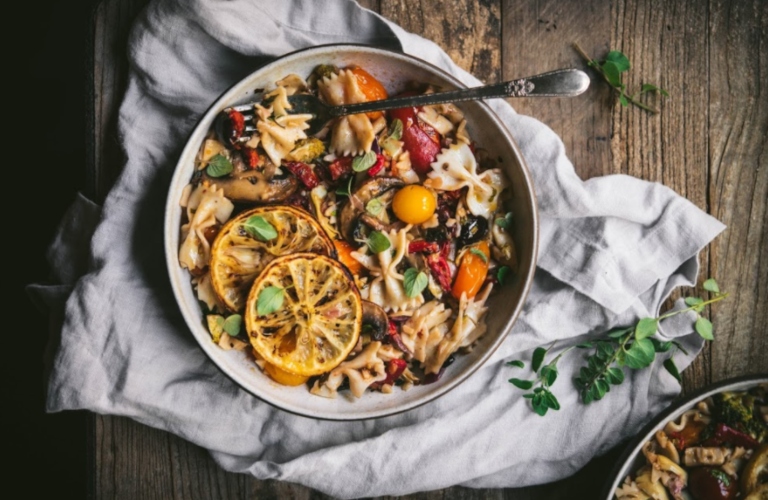 Ingredients Herbed Lemon Olive Oil Dressing:
¾ cup 

Carapelli Unfiltered Organic Extra Virgin Olive Oil
2 tsp 

freshly squeezed lemon juice

2 tsp 

oregano, finely chopped

2 tsp 

parsley, finely chopped

½ tsp 

red pepper flakes

¼ tsp 

freshly cracked black pepper

½ tsp 

salt
Ingredients For The Pasta:
5 cups 

(cooked) Farfalle pasta

4 tsp 

minced garlic

1 cup 

diced onion

⅓ cup 

thinly sliced sun-dried tomatoes

1 cup 

broccoli, chopped into small pieces

2 cups 

mushrooms, thinly sliced

½ cup 

diced roasted red peppers

1 ¼ cup 

artichokes, quartered

½ cup 

pitted kalamata olives, halved

1 ½ cups 

cherry tomatoes

1 tps 

oregano

1 tsp 

parsley

¼ tsp 

red pepper flakes

½ tsp 

salt

¼ tsp 

black pepper
DIRECTIONS:
STEP 1 Add all ingredients to a bowl and whisk well. Alternatively, place all ingredients in a glass jar, seal jar and shake vigorously for 10 seconds.
STEP 2 Cook pasta according to package directions.
STEP 3 Heat 2 tbsp of herbed lemon olive oil in a pan heated to medium. Sauté onions for 5 minutes, stirring often. Add garlic and continue to cook for 2-3 minutes, stirring frequently to prevent garlic from burning.
STEP 4 Add in 4 more tbsp of the oil, then add the broccoli. Cook for a few minutes, until slightly softened.
STEP 5 Add mushrooms and sun-dried tomatoes. Cook until mushrooms are softened.
STEP 6 Add whole cherry tomatoes, oregano, parsley, red pepper flakes, salt and black pepper. Stir well and cook until tomatoes are softened.
STEP 7  Add roasted red peppers, artichokes, and olives. Pour in remaining olive oil mixture and cooked pasta. Toss gently with tongs until well coated. Enjoy!