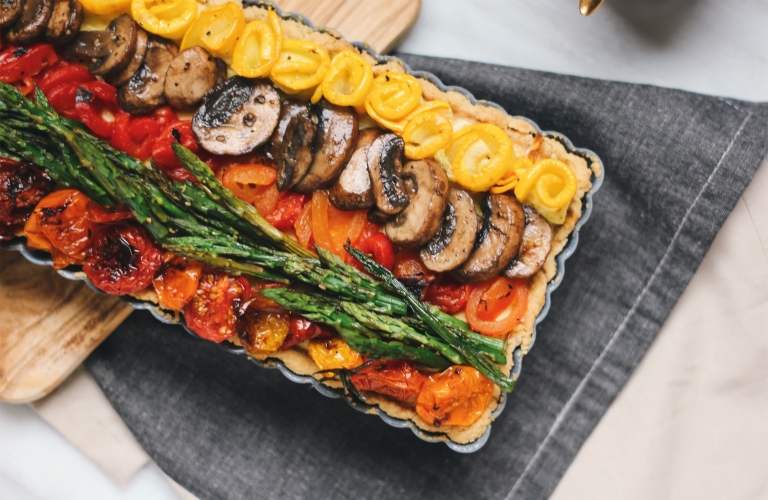 Ingredients for the olive oil dough:
1 1/2 cups + 2 tablespoons 

flour
1 teaspoon 

salt

1/4 teaspoon 

ground black pepper

1/2 teaspoon 

dried thyme

1 sprig 

fresh rosemary, finely chopped

2 tablespoons

milk or cold water

1/2 cup 

Carapelli Organic Extra Virgin olive oil
Ingredients for the filling:
1 tablespoon 

olive oil

1 small leek

,thinly sliced

3 cloves garlic 

,minced

2 cups 

whole milk ricotta

1/3 cup 

whole milk

2 eggs 

,whisked

1/2 cup 

grated Parmesan

Sea salt 

and pepper, to taste
Ingredients for toping:
Roasted 

vegetables

Carapelli Organic Extra Virgin 

Olive Oil

Additional 

Parmesan

Chopped fresh rosemary 

Rosemary
DIRECTIONS FOR THE DOUGH:
STEP 1 In a large bowl, whisk together the flour, salt, pepper, and herbs. Whisk the milk (or cold water, if using instead) with the olive oil and pour in the center of your dry ingredients. Using a fork, mix the flour into the olive oil mixture until wet. Knead the dough in the bowl until it just comes together.
STEP 2 Spray your tart pan with baking spray (either a 35cm or a 20/25cm circle pan). Press the dough into your tart pan, covering all of it and ensuring there's no patches or gaps. Piece and pinch the dough to cover the sides.
STEP 3 Blind bake the tart at 200ºC for 15-20 minutes until just golden. Prepare the filling.
DIRECTIONS FOR THE FILLING:
STEP 1 Heat the olive oil in a saute pan and cook the leek and garlic until translucent. Let cool.
STEP 2 In a large bowl, whisk the ricotta with the eggs. Whisk in the milk, Parmesan, and rosemary. Season the mixture with salt and pepper. Fold in the leek/garlic mixture.
STEP 3 Turn the oven down to 175ºC. Pour the filling into the baked tart shell and bake for 20-25 minutes, until the crust is deep golden brown and the filling is set in the center. The filling should be slightly firm when touched and should not jiggle.
STEP 4 Let the tart cool until warm and top with the warm roasted vegetables. Enjoy!