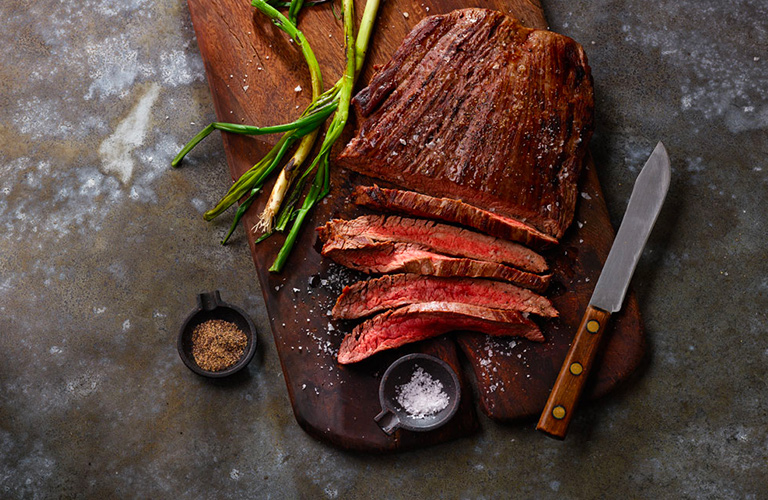 INGREDIENTS:
900 g

of steak

Kosher

salt

Ground black

pepper

2 bunches

scallions
1 Tbsp. + 1 tsp. Extra Virgin Olive Oil

(divided) Carapelli Organic

Flaky

 sea salt,

 such as Maldon
DIRECTIONS:
STEP 1 Generously sprinkle the steaks with kosher salt and black pepper and set aside.
STEP 2 Rinse the scallions and pat dry. Trim off any wilted ends and thin onion skin.
STEP 3 Preheat grill for medium-high direct heat. Pour 1 Tbsp. of Carapelli Organic Extra Virgin Olive Oil on a thick, folded piece of paper towel and carefully wipe the hot grill grates, holding the paper towel with tongs for safety.
STEP 4 Place the steaks on the grill and cook for about 5 minutes per side, flipping once or twice.
STEP 5 Let the steaks rest while the scallions cook. Toss the scallions with the remaining 1 tsp. of olive oil and sprinkle with salt and pepper. Place in a perforated grill pan or crosswise on the grill grates and cook just until charred in spots, about 3–4 minutes.
STEP 6 To serve, slice the steaks against the grain into 1-inch thick pieces. Arrange on a platter with the scallions. Drizzle with olive oil and sprinkle with flaky sea salt.
Alternatively, preheat a grill pan or large cast iron skillet over high heat for at least 5 minutes. Prep with olive oil and cook the steak and scallions as directed above.