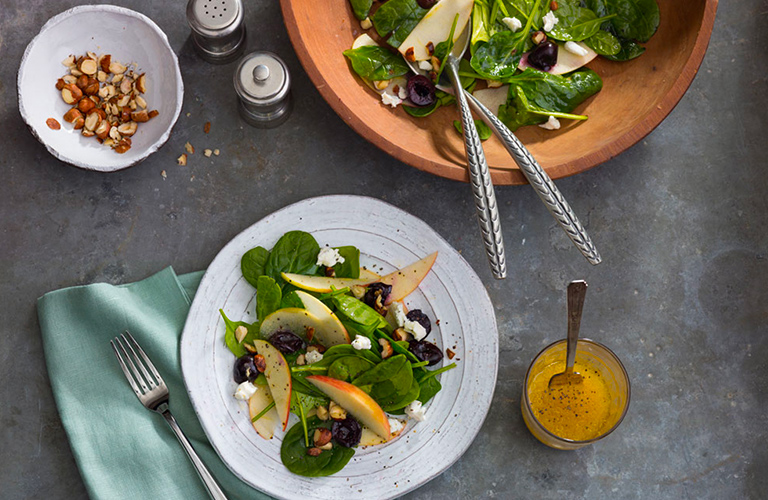 INGREDIENTES:
1 small, firm apple, 

such as Honeycrisp

Freshly ground

black pepper

5-oz.

bag baby spinach

½ cup

hazelnuts, coarsely chopped

½ cup goat cheese,

crumbled

3 Tbsp.

apple cider vinegar

1 tsp.

coarse ground mustard

1½ cups fresh cherries

(about ½ lb.)

Kosher

salt
½ cup Extra Virgin Olive Oil

 Carapelli Organic
DIRECTIONS:
STEP 1 Quarter and core the apple, but do not peel. Cut into paper-thin slices with a mandoline or knife.
STEP 2 Pit and halve the cherries.
STEP 3 Toss the apple slices and cherries with the spinach, hazelnuts, and goat cheese in a large serving bowl.
STEP 4 Whisk the vinegar and mustard together in a small bowl. Whisk in the Carapelli Organic Extra Virgin Olive Oil in a slow stream until it thickens into a vinaigrette. Taste and add salt and pepper as needed.
STEP 5 Toss the vinaigrette with the salad and serve immediately.