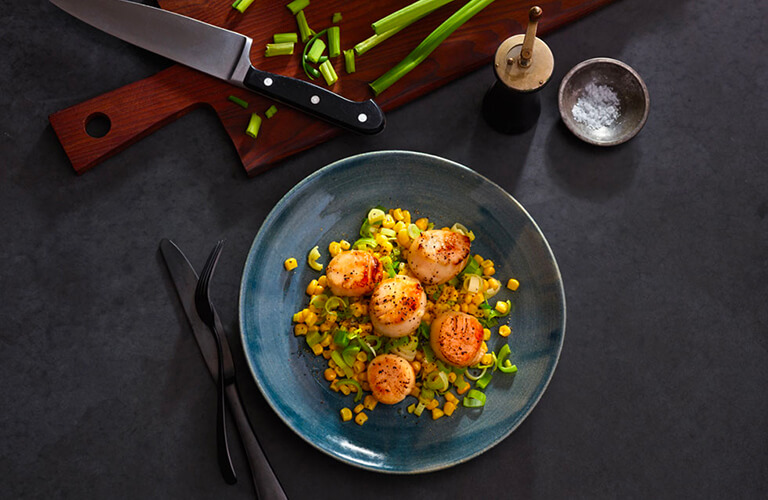 INGREDIENTS:
16 sea scallops

2 medium ears 

of fresh corn

3

medium leeks
freshly ground 

black pepper

¼ tsp. 

kosher salt

2 Tbsp. 

dry white wine
4 Tbsp. + 1 Tbsp. + 4 tsp. of 

Carapelli Organic

Extra Virgin Olive Oil, divided
Flaky 

sea salt

, such as Maldon
DIRECTIONS:
STEP 1 Remove the tough side muscle from each scallop and pat the scallops dry with a paper towel. Set aside on a paper towel-lined plate.
STEP 2 With a small, sharp knife, slice the kernels off the ears of corn into a bowl. Set aside.
STEP 3 Trim the bulb ends and tough dark green stems off the leeks. Slice the tender white and light green stems in half lengthwise, then soak in cold water for 10–15 minutes to remove dirt. Drain the leeks, rinse well, and slice into thick half-moons.
STEP 4 Pour 4 Tbsp. of Carapelli Organic Extra Virgin Olive Oil into a large saucepan over medium-low heat. Stir in the leeks and kosher salt. Cover and cook, stirring occasionally, for about 10 minutes until the leeks are very soft. Uncover and stir in the wine. Cook for 5 minutes more. Transfer the leeks to a bowl and wipe out the pan.
STEP 5 Add 1 Tbsp. of olive oil into the pan, then add the corn. Season with a pinch each of salt and pepper. Cook, stirring occasionally, for 3–4 minutes until the corn is warmed through. Transfer the corn to a separate bowl and wipe out the pan one more time.
STEP 6 Increase the heat to medium-high and add 2 tsp. of olive oil. Heat the olive oil until shimmering, then add half the scallops. Sprinkle the scallops with salt and pepper. Cook for about 2 minutes per side, until the scallops are golden brown. Transfer to a plate and repeat with the remaining olive oil and scallops.
STEP 7 To serve, divide the leeks and corn evenly between four plates, and top each with four scallops. Drizzle with olive oil and sprinkle with flaky sea salt.