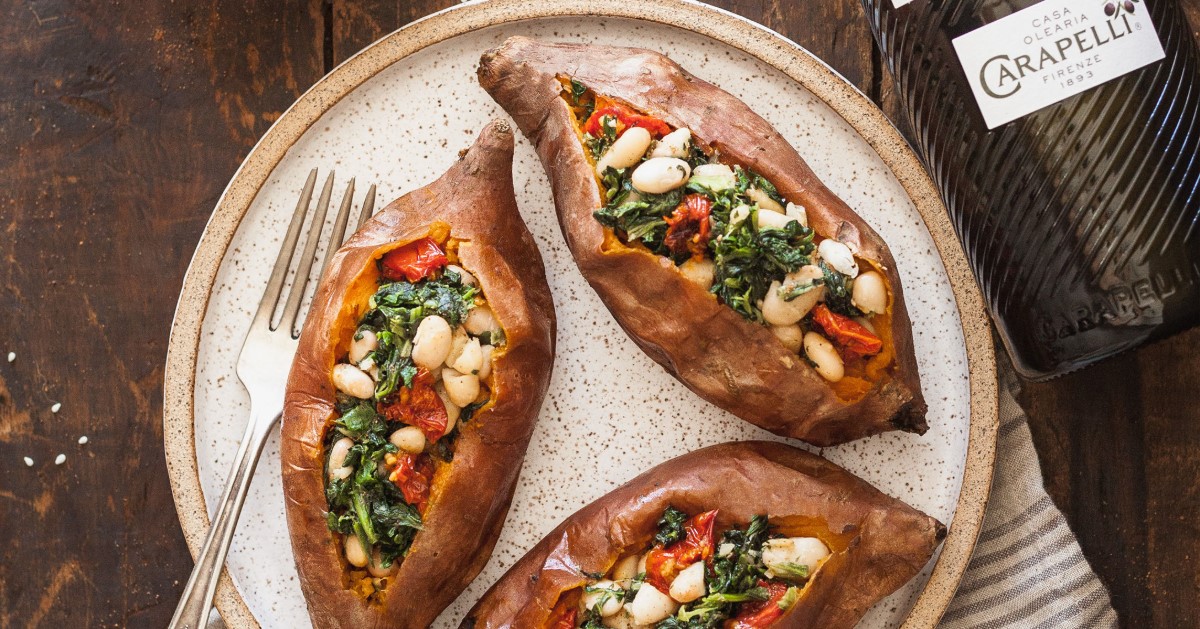 INGREDIENTS FOR SWEET POTATOES:
4

sweet potatoes

2

 

tablespoons

Carapelli Extra Virgin Olive Oil Organic

,

plus more for finishing the dish

3-4

garlic cloves

,

minced

10

ounces

frozen chopped spinach

,

defrosted and excess water removed

14

ounces

canned great northern beans

,

rinsed and drained

¼

teaspoon

ground nutmeg

Coarse kosher salt and freshly ground black pepper

¼

cup

sun-dried tomatoes
INGREDIENTS FOR TAHINI SAUCE:
¼

cup

tahini

⅛

teaspoon

garlic powder

⅛

teaspoon

salt

Warm water
DIRECTIONS:
STEP 1 Preheat the oven to 400ºF.
STEP 2 Pierce the sweet potatoes a few times all over with a fork. Wrap each one tightly in a square of aluminum foil, then place on a foil lined baking sheet and bake for 60 minutes or until the sweet potatoes feel soft when gently squeezed. Remove from the oven, unwrap, and allow to cool enough to handle.
STEP 3 While the sweet potatoes are baking, prepare the toppings.
STEP 4 In a large skillet, heat 2 tablespoons olive oil over medium heat. Add the garlic and cook, stirring, for 2 minutes or until a pale blonde color. Add the spinach and beans. Season with nutmeg, salt, and pepper, to taste. Stir until heated through.
STEP 5 In a small bowl stir together tahini, garlic powder, and 1/8 teaspoon salt. Add warm water a little bit at a time, stirring in completely, until the desired consistency is reached, and it becomes a pourable sauce.
STEP 6 Cut a slit down the middle of the sweet potatoes and use a fork to fluff up the inside. Divide the spinach and bean mixture and sun-dried tomatoes evenly over the sweet potatoes, then drizzle with tahini sauce and additional extra virgin olive oil.