This morning was great weather for a walk, so after visiting my olive grove I decided to take a stroll through the streets of the village. As I walked and enjoyed the morning tranquility, I detected the smell of freshly baked bread, which made me stop and savor it a little longer. I realized it had been a long time since I had baked my own bread. That's why I decided to go home and prepare some for later. While it's baking, I'll tell you about baking bread with olive oil.
HOMEMADE BREAD, STEP-BY-STEP
Before starting, I recommend that you prepare the ingredients you need:
3 tablespoons Carapelli extra virgin olive oil II Centenario
1 1/2 cups warm water
0.5 oz fresh yeast
0.35 oz salt
0.5 oz sugar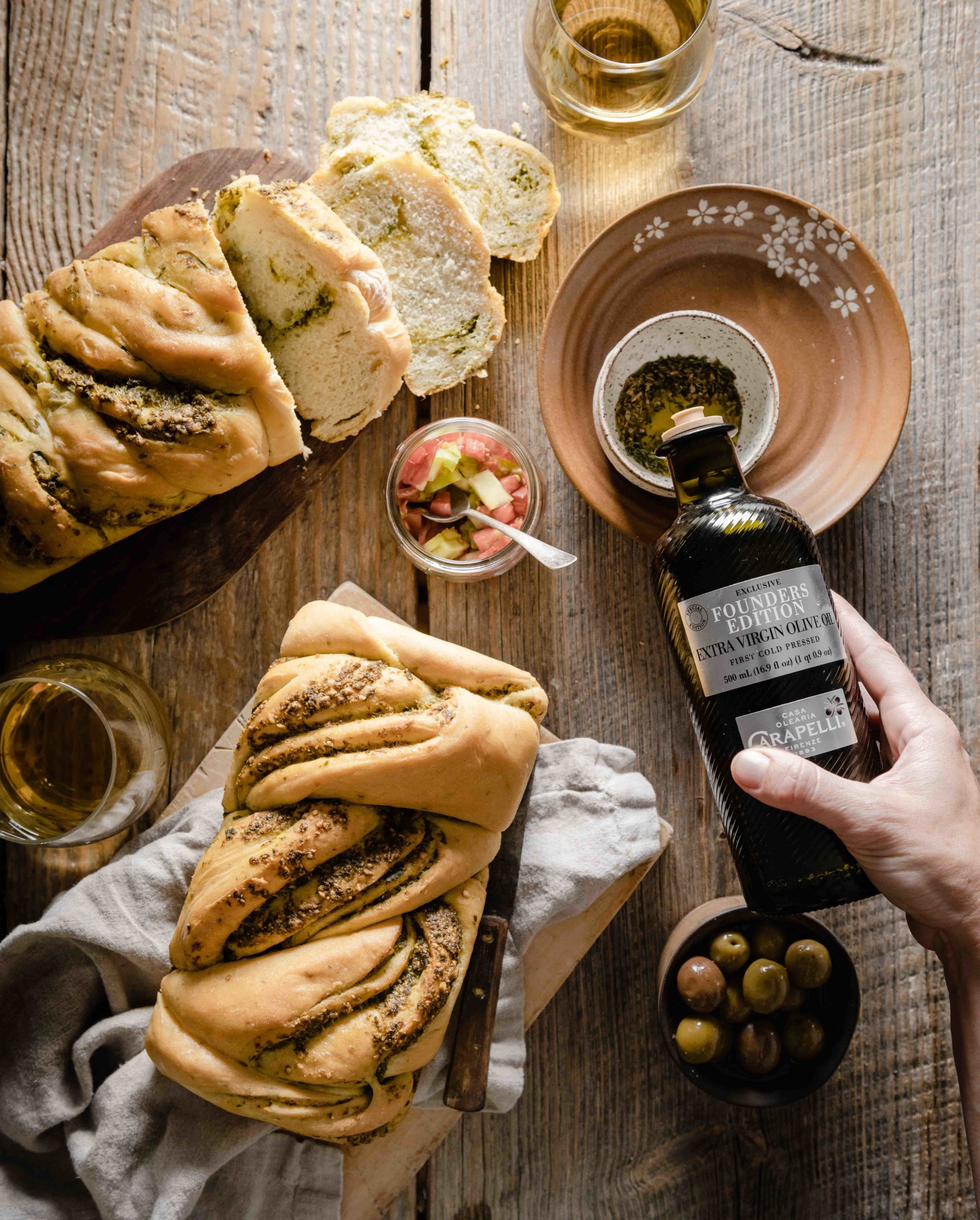 STEP 1. PREPARE THE YEAST
The first step in baking bread with olive oil is to prepare the yeast. To do this, pour some warm water into a glass, and add the fresh yeast together with the sugar. Mix these ingredients well, until the yeast is completely integrated.
STEP 2. MIX THE LIQUID INGREDIENTS
In a large bowl, add the remaining warm water, extra virgin olive oil and yeast. Once this is done, add four or five tablespoons of wheat flour. Mix these ingredients to activate the yeast. When the mixture is homogeneous, cover it with a clean cloth.
STEP 3. ADD THE REST OF THE FLOUR
Before baking your bread with olive oil, gradually add the rest of the flour along with the salt, while mixing with a wooden spatula to integrate it well. An increasingly thick dough will be formed.
STEP 4. KNEADING
Clean the kitchen worktop, sprinkle a little flour over it and position the dough. Spread a little olive oil on your hands, and start kneading. When the dough has a uniform texture, it will be ready. Then use your hands to shape the dough into a ball, then let it rest for half an hour covered by the cloth.
STEP 5. BAKING BREAD WITH OLIVE OIL
Drizzle the oven tray with extra virgin olive oil and do the same in a tall, wide glass bowl. Knead the bread again to remove any air, and place it on the tray. Make two parallel cuts, sprinkle with a little flour, and cover with the glass bowl. Put it in the oven, at 390ºF, with heat from above and below. Once 45 minutes have elapsed, remove the bread and place it on a rack to cool. Once it has cooled, your bread will be ready.
There's nothing like enjoying freshly baked bread, and what better than a good extra virgin olive oil. Carapelli II Centenario will add some very special herbal notes to your bread. Enjoy the taste and aroma that lingers at home after baking with olive oil.